Eyre House is Finally HERE!
This has been the BEST summer ever for amazing books coming out. And I'm SO excited that this week Eyre House was added to that list.
You guys. Seriously, how can you not fall in love with a modern re-telling of Jane Eyre? Especially one that's flipped the original story on its head and made the main character one bad boy named Evan Richardson? This guy is hot and sweet and oh-so-intriguing. I love that the story is told from his point of view, and that we really get to see the world through his eyes.
Cait has done an amazing job capturing the Gothic feel of the original, while upping the romance. I didn't think it was possible, but this book made me swoon even more than the origina. And the New Adult twist that Cait put on it is so amazingly sexy. *Fans self*
If you want a hot, summer romance you should definitely check this one out. I promise you won't be disappointed!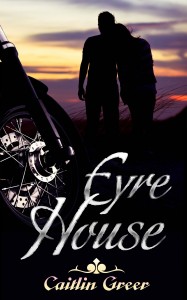 Here's the blurb:
When eighteen-year-old orphan Evan Richardson signed up to work at Eyre House, on the sleepy tourist getaway of Edisto Island, SC, he never expected to find himself dodging ghosts. But Eyre House seems to have more than its fair share of things that go bump in the night, and most of them surround his employer's daughter.
Back from her freshman year of college, Ginny Eyre is dangerous from word one. She's a bad girl with ghosts of her own, and trouble seems to follow her everywhere she goes. But livin
g or dead, trouble isn't just stalking Ginny. When her ex-boyfriend is found murdered in the pool, Evan knows he's got two choices – figure out what's going on, or become the next ghost to haunt Ginny Eyre.
You can buy Eyre House on Amazon, Barnes and Noble, iTunes, Kobo,