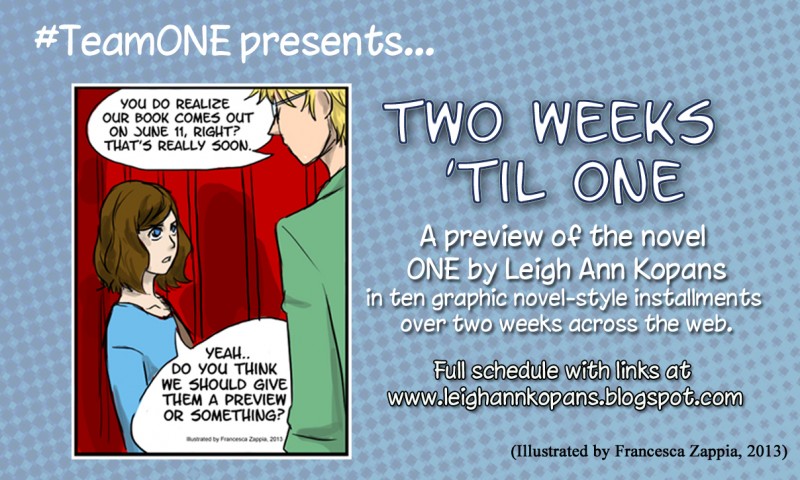 ITS ALMOST HERE!!! ONE comes out TOMORROW! I'm SO excited!!!
And almost as good, I get to share the last panel of the ONE comic with you guys today. I hope you've checked out the other panels in the series (Chessie Zappia is such an amazing artist and did a fantastic job!) and it whetted your appetite for the full book! I know I'll be buying my copy first thing in the morning!
So here we go! Time for the final installment!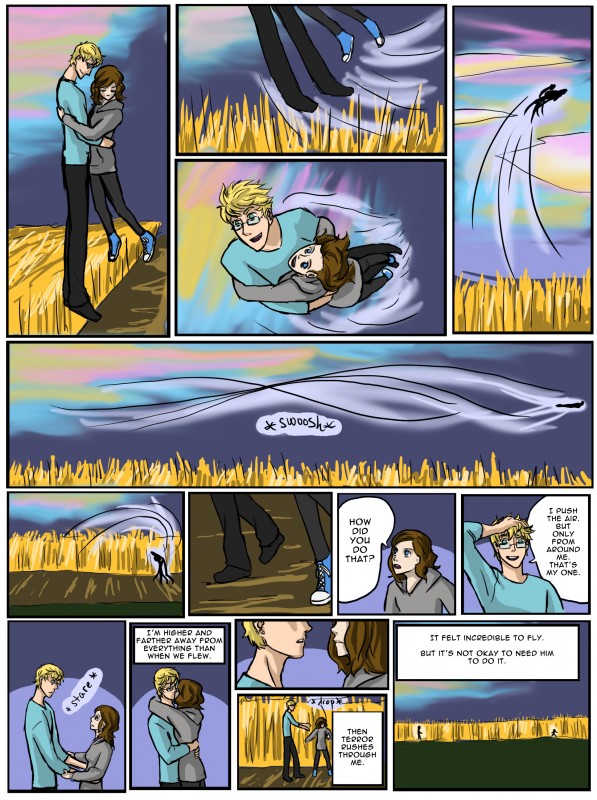 Find a full list with links to the other installments of this series on the author's blog:  www.leighannkopans.blogspot.com
Or follow the author on Twitter @LeighAnnKopans for daily updates!
About ONE (a novel by Leigh Ann Kopans🙂
Release date: June 11, 2013
When having two powers makes you a Super and having none makes you a Normal, having only one makes you a sad half-superpowered freak.
It makes you a One.
Sixteen-year-old Merrin Grey would love to be able to fly – too bad all she can do is hover.
If she could just land an internship at the Biotech Hub, she might finally figure out how to fix herself. She busts her butt in AP Chem and salivates over the Hub's research on the manifestation of superpowers, all in hopes of boosting her chances.
Then she meets Elias VanDyne, another One, and all her carefully crafted plans fly out the window. Literally. When the two of them touch, their Ones combine to make them fly, and when they're not soaring over the Nebraska cornfields, they're busy falling for each other.
Merrin's mad chemistry skills land her a spot on the Hub's internship short list, but as she gets closer to the life she always wanted, she discovers that the Hub's purpose is more sinister than it has always seemed. Now it's up to her to decide if it's more important to fly solo, or to save everything – and everyone – she loves
Add ONE to your Goodreads and learn more about the author here: http://www.goodreads.com/book/show/17251203-one
And don't forget to stop by Amazon, Barnes and Noble, or any other bookstore to pick up a copy!!!