Over on Elana Johnson's blog, she does a regular feature called Tell the Truth Tuesday. I love it! I always find  out the coolest things about her and her life. I'm not nearly as interesting, but I thought I'd share just a few tidbits about myself (especially since the blog post ideas seem to be drying up lately!)
Five Things You Might Not Know About Me:
1. Last year, my crit partners came up with a challenge to write a short story in a month. Thus Princess for Hire was born. It was the first short story I've ever written. And it was accepted at the second place I submitted it to. (I almost got into a fairly well-known anthology, but I didn't have any previous publishing credits)
2. I come from a show-biz family. My great grandmother was a trapeze artist for a traveling circus. My grandfather was the stage manager for the local ABC TV station in Detroit. And my dad works for the Detroit Symphony Orchestra as stage manager. Tangentially, my grandmother's second husband also worked in showbiz, as well as most of her close friends. Unfortunately I don't seem to have inherited that gene.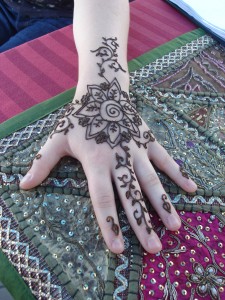 3. I worked as a part time henna artist for several years, doing wedding and event henna/mehendi throughout the area. I loved it, but it ended up being a ton of work and I needed to focus on my writing.Plus, my boss didn't like me coming to work with "paint" all over my body. Now I just do it for fun.
4. I have gone 3 times with my friends and sister to get tattoos. I always make them go first. And I've chickened out every. Single. Time.  I just have a problem with commitment I guess, or I haven't found the perfect tattoo yet. I'm determined someday to get one!
5. I own every Julia Quinn book she's ever written. I also used to think I might be able to write regency romances. Yeah. Not so much.
Wow, that's a pretty lame list. What about you guys? Any interesting facts we should know about you?