THE STAR THIEF IS OUT!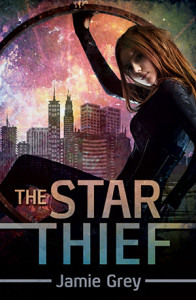 I am SO happy to announce that today is the release date for THE STAR THIEF. (Yes! It's out a day early!)
My science fiction romance is now available for purchase. I don't think release days ever get less exciting, and I can't wait to share this book with you all! It was so much fun to write and now that I'm in the thick of writing book 2, I realize it was pretty easy to write too. Something that doesn't happen with every book LOL.
Even more exciting is my blog tour kicking off today with a review of THE STAR THIEF by Brianna at Biblio Belles! Interested in seeing what other people like about the book? Check out Brianna's thoughts!
Tomorrow, Pili at In Love with Handmade will have her own review, and an interview with little 'ole me!
There's even a giveaway where you guys can win a signed copy of THE STAR THIEF, swag, or an e-copy! Stop by and enter to win!
If you want to pick up your own copy in the mean time, you can buy it here:
Amazon
Barnes & Noble
Smashwords
Thank you all for being part of this ride with me! I wouldn't be here without you!!!
Blurb:
She might only be twenty-three, but Renna Carrizal is the most notorious thief in the galaxy. There's just one problem – all she wants is to get the frak out of the business.
But when Renna rescues an injured boy from the warehouse she's casing, she finds herself on the run from the mob instead of enjoying retirement on a garden world. Turns out, the kid was a plant to lead her to MYTH, a top-secret galactic protection agency.
MYTH needs Renna's special skills, and they make her an offer she can't refuse – unless she'd like to spend the rest of her life on a prison ship. To make sure she does her job they shackle her with a MYTH watchdog, the handsome but arrogant Captain Finn.
A former mercenary-turned-galactic-hero, Finn happens to have his own dirty secrets. Secrets that Renna wouldn't mind uncovering for herself. Together, they discover an experiment to develop illegal cybernetics that will create an unstoppable army. The intended target? The human star fleet.
Now Renna must use her skills as the Star Thief to pull off the biggest job of her career – saving the galaxy. And herself.
Recommended for 17+ due to mature themes and sexual content.
Some advance praise for THE STAR THIEF:
"The Star Thief is a book with a complex plot, a strong female character and a swoony love interest, where you get more than just sparks between them and that will leave you wanting more." — Pili Albarran