I'm so excited that today is finally here! One of my long time crit partners and all around good friends is releasing her first novel-length book today! Road to Hell by Krista D. Ball is now available from Mundania Press. You can also pick it up on Amazon and at Barnes and Noble within the next few days.
Here's the blurb: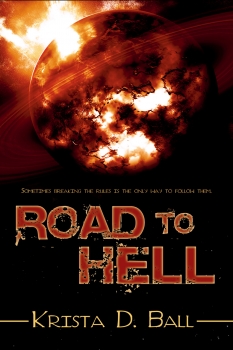 Captain Katherine Francis is about to disobey every Ethics Law the Union of Planets throws at her. After the Union's enemy destroys her home planet and murders her family, she makes the decision to bring an end to the war—whatever it takes.

When an opportunity arises to ally with the neutral Alliance and turn the tide of war, Katherine throws aside her moral code, partners with a known spy, and risks sacrificing the very core of who she is. And when faced with choosing between her conscience and stopping the bloodshed, she realizes that, either way, she'll lose.
I remember reading a first draft several years ago and was blown away by how great it was. Krista has created a gritty, messy world populated by real, flawed people. It's not often you find a sci-fi novel that's heavy on both plot *and* character, but after reading it, these people felt like my friends. I cared about what happened to them (and oh boy does stuff happen) and how the story ended.
If you're looking for a sci-fi read that will keep you guessing, and suck you into a brave new world, I definitley recommend you check out Road to Hell.
You can add it to Goodreads here.
And to celebrate this momentous occasion, I'm giving away a free ebook copy to one lucky commenter! Just make a comment by Friday. I'll announce the winner on Monday!