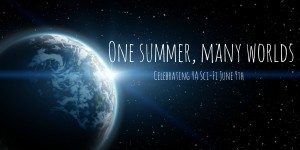 Young Adult Science Fiction!
I am SO excited to be part of the fabulous Denise Grover Swank's FB party celebrating YA SF. I can't believe I'm included with the rest of these amazing authors. As you can see below, there's quite a line up here, and the party goes all day long, with TONS of giveaways, so stop by when you can and enter.
Guest hosts: 
Jamie Grey
, 
Susan Kaye Quinn
, 
Elana Johnson
 , 
Amy Bartol
, 
LeighAnn Kopans
, 
Brenda Pandos
, 
Eisley Jacobs
, 
Theresa Veraa
,
Gennifer Albin
, 
MG Buehrlen
, 
Denise Grover Swank
, 
Trisha Leigh Ziegenhorn
MANY prizes will be given away:
$100 iBooks, Amazon, or B&N gift card GRAND PRIZE.
I'll be giving away…
A signed paperback copy of Ultraviolet Catastrophe and The Star Thief  (US Only)