Last fall I tackled our tiny spare room. We'd been using it mostly for storage (as an extra closet really) and I finally decided that it was time to do something with the space. My wonderful other half gave me carte-blanche to turn it into a writing room and decorate it how ever I'd like. So…I ran with it.
I love interior design, though I'm not sure I really have the skills. But, I spent hours looking for examples and inspiration and trying to choose between colors. I even slathered paint samples all over the walls to figure out which I liked the best.
For my room, I wanted something that was warm and comforting, but a little fun and funky too. Of course I wanted a bookshelf, and a comfy chair, and room for my desk. With such a small space, it was definitley a challenge!
I wish I could find my "before" pictures, but I have the sinking feeling they got deleted with my recent transition over to my new Mac 🙁  But here is what I ended up with!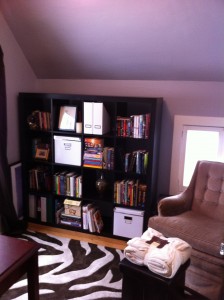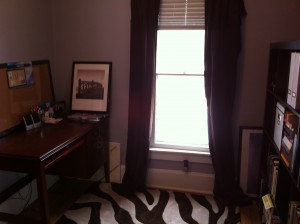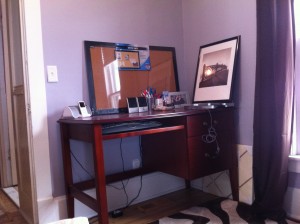 I still have some pictures to hang and some knick-knacks to put up, (I know, I know – it's been almost a year!) but over all I'm pleased with how it turned out. Slightly fun, a little bit funky, and very relaxing. And even better, the only piece of furniture I had to buy was the bookshelf (I LOVE Ikea!)
My biggest challenge with the room is how small it is. I kid you not, my bathroom growing up was bigger than this room! It's also an attic room, so it's got slanted ceilings which make it feel even smaller. But I have to say, I love it. It's actually really cozy and comforting. Now I just need to actually make myself use the room to write in instead of curling up on the couch LOL!
What about you guys? Do you have a dedicated space for writing? Do you actually use it?