I don't think I need to bother with coming up with new blog post ideas, I'm just going to use this blog to celebrate my amazing critique partners. Cause yeah, another one of them just signed with an agent.
Who is it, you ask?
The AMAZING #superintern, Erica Chapman (Check out those sassy sunglasses, she's already a SUPERSTAR)!!! You can read her post about it here! She's signed with the equally awesome Judith Engracia of Liza Dawson Associates.
I was so lucky and got to read Erica's amazing manuscript, Anomaly, because of the super-stalking powers of Leigh Ann. And even better? We got to meet IN PERSON! Erica's a fellow Michigander and a couple weeks ago, I got to meet up with Erica and Leigh Ann in Ann Arbor.  We clicked IMMEDIATELY, and I knew right then she was something special 🙂
So let's toast to Erica and her success! I know you're all going to love her book as much as I do when she gets that big fat publishing deal!
Congrats Erica!!!!!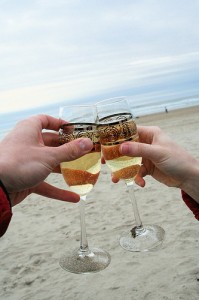 (photo by tetraconz)